SCALEWIRELESS storage and surveillance solutions partner Synology invites everybody to visit their exhibition at CeBIT, Hannover.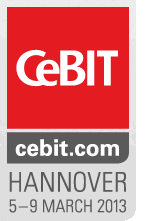 Synology announced participation in CeBIT 2013 in Hannover, Germany, where Synology will unveil new hardware along with DiskStation Manager 4.2, Synology's latest NAS operating system. Synology is waiting for you at Hall 2, Stand D48.
"In CeBIT 2013, we look forward to presenting Synology's big data solution to the public," commented Vic Hsu, CEO of Synology, "visitors can expect to find the latest private cloud solution, high availability mechanism that's applicable to enterprise and SMB environments, as well as extensive multimedia and mobile integration."
The official version of DiskStation Manager 4.2, Synology's latest operating system update, will be on display to showcase enhancements across various services. For business of all sizes, DSM 4.2 features storage efficiency in virtualized environment, increased productivity and streamlined IT administration, enterprise-ready Cloud Station, and a multitude of system reliability features. In the field of home solution, DSM 4.2 provides in-depth integration with Bluetooth technology, multiple DTV-dongle, AirPlay and DLNA streaming. In addition, the mobile solution offers extended support across 3 major mobile platforms.