You want to download files from the Internet but you do not want to wait until it completes? Wait no more.
SCALEWIRELESS has a solution for you.
The Synology DiskStation serves as a 24/7 download center for BitTorrentTM, FTP, HTTP. FTPS, SFTP, eMule, NZB news server, and multiple file hosting sites. Turn off your computer while files are being downloaded or uploaded as the DiskStation does these tasks autonomously. In addition, you can simply set a download schedule to limit the download activities to certain hours of a day. When a download task completes, e-mail notifications can be sent from the system to inform you.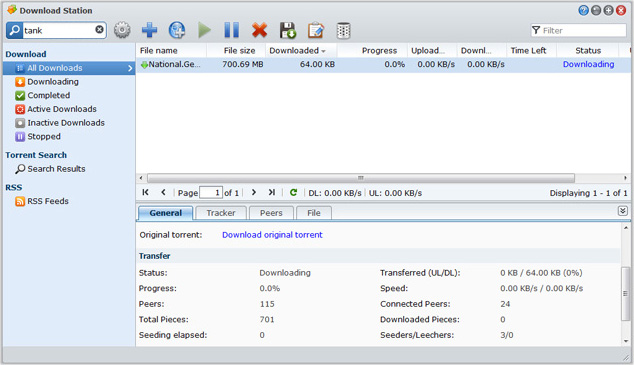 Download Station also gives you hands-on user experience to download files. If you already have an existing BitTorrentTM file on your computer, you can drag-n-drop onto Download Station to strat the task right away. Also, other users can access Download Station with a direct web address and an individual log-in page so the rest of your DSM won't be exposed.

Quickly Find What You Want
For those who think downloading from BitTorrentTM is complicated, just download BitTorrentTM files from Download Station! The Download Station is embedded with search engine for BitTorrentTM. So you can easily find what you want with a narrowed list of files since Download Station would do the hunt. No extra steps needed. Different listing is available as well to see the latest added BitTorrentTM or the one with most peers and seeds for faster download.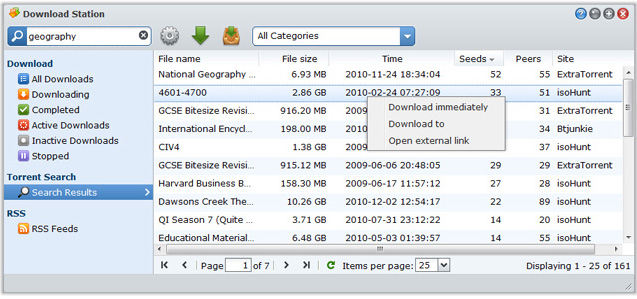 Get the Latest Updates and Download
RSS Feed feature makes you the first to know when the hottest and latest BitTorrent is out by bring the latest updates directly to you. You can then select to download all the updated files or just a specific file manually. Also, you can subscribe to multiple RSS feeds to follow all of your favourite lists. Most of all, you can now drag-n-drop BitTorrent files to a designated folder and the download will start automatically.

Automate Download with Watched Folder
Download Station has just gone fully automatic. It can download files for you without even launching the app. Just assign a specific "Watched Folder", and the task will begin as soon as you throw torrent files in it.