Synology Surveillance Station let's you to view and record live video from your home, your yard or workplace from any web browser, iPhone, iPad or Android device. It does not matter if you have only one or over 20 IP-cameras – Synology Surveillance Station will act as a center to all of them providing additional features and possibilities, like extended motion detection and alarm recording, PTZ patrol paths, e-mail and SMS-notifications and much more.
Surveillance Station can be used with all modern web browsers.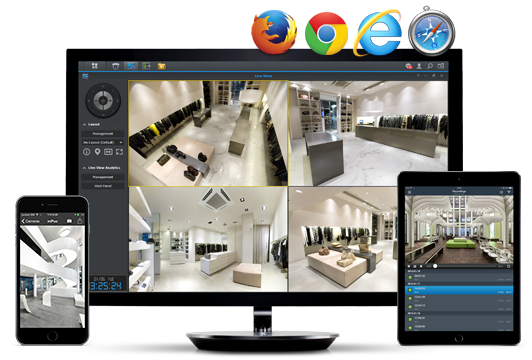 As long as you can find a computer with Internet connection, simply log on to your Surveillance Station and you will be monitoring in real-time of your cameras anywhere in the world. In the case of a large deployment, flexible layout management allows you to monitor up to 49 channels for live view concurrently. Double click on selected camera to switch to full screen mode, or use the mouse scroll control to perform digital zoom anytime on a selected camera.
Surveillance Station supports five video recording modes with intelligent built-in features such as custom detection areas motion detection, alarm recording and recording scheduling. Audio recording is also supported when an audio-capable camera is used.
Continuous Recording
Regardless of any event triggers or system inputs, the camera will record non-stop until the recording schedule has ended or storage becomes insufficient. This recording mode can be useful for archiving, or exporting for more advanced analytics. Each camera can be setup in their recording schedule to record continuous on their assigned time.
Motion Detection Recording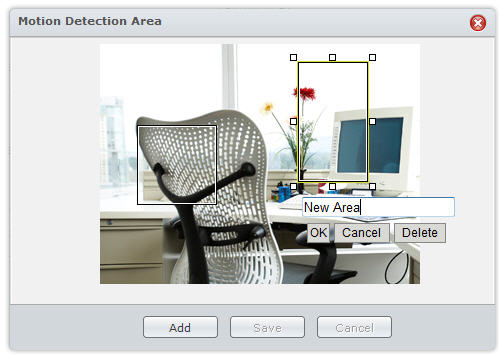 Recording will commence either when the camera or Surveillance Station detects a motion beyond the threshold setting. The level of intelligence in this recording mode is dictated by how well the threshold area and sensitivity was setup. Only suspicious movement are recorded and cut down waste by eliminating unnecessary recordings.
For motion detection recording, you can either rely on the built-in motion detection mechanism of the camera, or leave it to Surveillance Station (MJPEG only). User can define motion sensitivity and threshold to control the motion trigger. Designate up to 10 custom detection areas on the camera view and the recording will only begin when motion is detected within a designated area.
Straightforward Installation Process
Adding cameras is straightforward. Quick Setup and Complete Setup are available for you to choose from for a standard or customized installation. Both come with a search feature that automatically searches for available cameras1 on the network. All you need to do is select the camera to install from the search results and enter its username and password. This eliminates the trouble of remembering the camera's model name and IP address.
For cameras not officially supported, you can also try choosing the User Define option and manually entering the source path to see if it works.
Any ONVIF/PSIA compliant cameras/encoders could also be added to Surveillance System easily through a well thought out user interface and installation process. Setting up IP Surveillance system has never been easier than this.
No Brand Locking
Have cameras from different vendors? You don't need separate software to live view your collection of different cameras. With comprehensive IP Camera integration support, now you can log in Surveillance Station and use cameras from over 90 brands and 4000 models.
Live View specifications:
Up to 49 channels in 1080p on single live view display
Real-time streaming protocol (RTSP) support
Multicast communication support
Pan Tilt Zoom (PTZ) and digital zoom support with configurable PTZ speed
On-screen controls to activate audio/digital outputs of external devices
On-screen camera controls including camera zoom, focus, iris adjustment, auto pan, and auto object tracking
E-Map & Snapshot support
Alert panel to quickly display the most recent triggered event
Snapshot editor support for instant editing after taking a snapshot
Video quality settings including bitrate control, image quality, resolution, and FPS
Camera patrol can be triggered by schedule, event detections, or I/O alarm
Intelligence video analysis including no-idle zone, motion detection, missing object, foreign object, camera occlusion, and focus lost
Web plugin for Internet Explorer, Firefox on Windows, and Safari on Mac OS X
Desktop design allows for easier multitasking
Joystick support
Cameras Support
Video codec: MJPEG, MPEG-4, MxPEG, and H.264 (MxPEG is only supported on Surveillance Station through web browser)
Support Field of View (FOV) to adjust different field of view if the camera supports multiple types
Support constant and variable bitrate control to fine tune the camera's bitrate
Multiple streams are supported with different camera codec engine
Different TV standards are applicable if the camera supports NTSC or PAL standard
Audio codec: PCM, AAC, AMR, G.711, G.726
Supports camera dewarping via camera or Surveillance Station for certain fisheye cameras mounted via ceiling, wall, or floor
ONVIF™ 2.4, Profile S, Profile G certified
Support over 89 brands, see here for the complete camera support list
Other Specs:
Up to 64 channels synchronous and non-synchronous playback
Frame by frame playback support
Snapshot support
Divide a recording into four equal-length sessions and playback them concurrently
Intelligence video analysis including no-idle zone, motion detection, missing object, foreign object, camera occlusion, and focus lost
Image enhancements including brightness, contrast, saturation, and sharpness
Embedded watermark for evidence integrity
Look for more details here:
https://www.synology.com/en-uk/surveillance/7.1/