Live View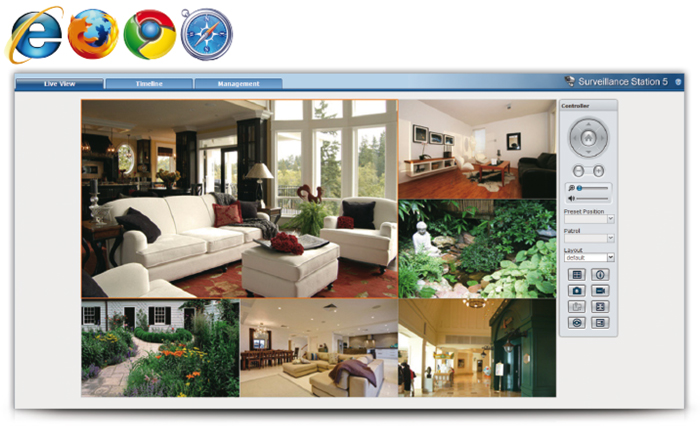 Cross-Browser NVR System
• Supports Internet Explorer, Firefox, Google Chrome, & Safari.
• Available on iPad, iPhone, and Android devices.
Smart Monitoring
• Video Analytics tracks changes by the second. Adjust sensitivity, detection zone, and object size for best monitoring results.
Concurrent Live View Channels
• Stream 49 channels concurrently.
• Fisheye camera support.
• Customizable viewing layout.
Monitor With the Right Tools
• E-Map provides an overview of camera deployment.
• Full PTZ and zoom in/out support.
• View preset position or monitor patrol path.
• Take snapshot or start recording anytime.

Event Management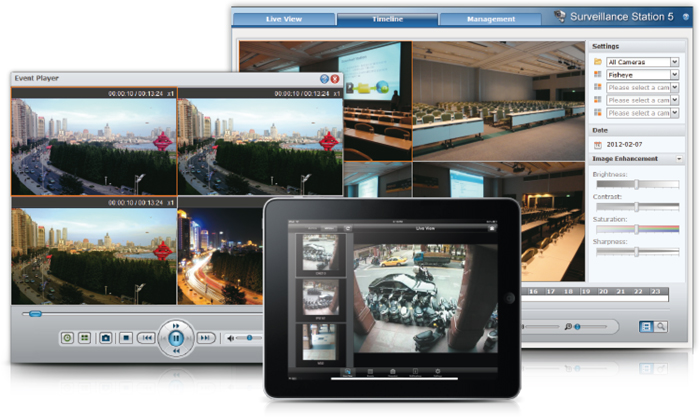 Locate the Event
• Event List helps to identify events by different requirements.
• Specify a time period with calendar and timeline support.
View Events in Different Ways
• Playback recording up to 4 channels simultaneously.
• View in Sync or Non-Sync mode.
• Watch an event with only 1/4 of the time required with Time Slicing.
• Available on iPad, iPhone, and Android devices.
Catch the Moment
• Locate critical moment with zoom in/out and snapshot.
• Fine tune an event's saturation, sharpness, brightness, & contrast for more clarity and content.
• Smart Search filters out critical moments intelligently
Download & Authentication
• Digital watermark embedded in all recorded videos and still images.
• Evidence Integrity Authenticator proves an event is genuine and not tampered with.
Export & Mount Events
• Export events to shared folders or USB/eSATA devices for an optimized storage.
• Mount events back onto DiskStation to review the old recordings.

Camera Management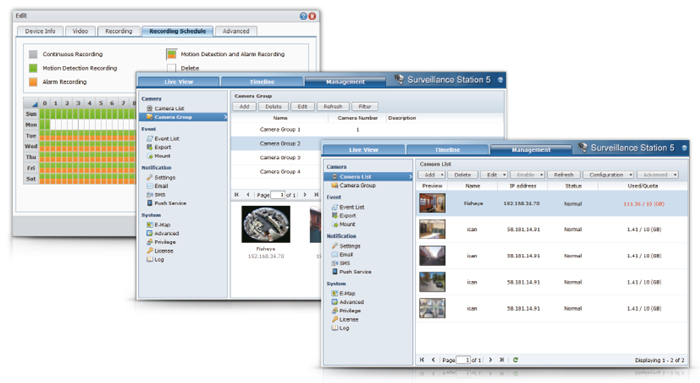 Versatile IP Camera Support
• Over 1,000 camera support across over 50 prestigious brands.
• Wizard based installation process.
Manage Efficiently With Status Dashboard
• View camera list and camera group on status dashboard.
• Add, delete, and adjust camera settings easily.
Large Deployment
• Batch camera installation enhances efficiency.
• Centralized Management System (CMS) helps manage IP cameras across multiple DiskStation in one central interface.
Be Notified Instantly
• Receive notification via SMS, emails, Skype, & Windows Live Messenger.
• DS cam for iPad & iPhone supports push services.
Privilege & Security
• Assign user privilege to "administrators" or "spectators", and the cameras each has access to.
• Live view over the Internet with SSL/TLS encryption.
• HTTPS connection available.

Specifications Synology Surveillance Station 5
Live View
Live View Modes: Up to 49 channels display, sequential mode, full screen display, E-Map
Video Quality Settings: Image quality, resolution, frame rate
Manual Movement Control: PTZ (Optical, Digital), preset, patrol
Patrol on Schedule: Continuous, Motion Detection, I/O Alarm
Recording
Recording Modes: Manual, Continuous, Motion Detection, I/O Alarm
Record on Schedule: Yes
Exort/Mount Recording: Export/mount recording to/from an external storage device or local DiskStation folder
Pre-roll Time: Configurable pre-recording & post-recording time
File Formats: AVI, MP4
Playback
Event Playback: Play, Pause, Stop, Previous Event, Next Event, Snapshot, Fast Forward, Slow Motion, Digital Zoom-in, Digital Zoom-out
Event Time Slicing: Divide an event into 4 parts and playing them concurrently
Timeline: Up to 4 channel synchronous and asynchronous playback
Smart Search: Intelligence Video Analysis includes Motion Detection, Missing Objects, Foreign Object, Camera Occlusion, and Focus Lost
Image Enhancement: Brightness, Contrast, Saturation, Sharpness
Management
Max. Number of Cameras per Server: Up to 50
Privilege Levels: User login as Manager or Spectator for specific camera
Disk Space Management: Rotate recorded videos by days or by video size
Notification Message: SMS text message, e-mail notification, Skype, Windows Live Messenger, push service on DS cam (iOS only)
Notification Filter: By camera, event type or schedule
Recording Backup: Backup through external storage device or remote device
User Interface: Web browser
Secured Connections: HTTPS
System Log: Yes
Multiple Language Support: Support in 20 languages: Czech, Danish, Dutch, English, French, German, Hungarian, Italian, Japanese, Korean, Norwegian, Polish, Portuguese Brazil, Portuguese European, Russian, Simplified Chinese, Spanish, Swedish, Traditional Chinese, Turkish
CMS (Centralized Management System)
Centralized Management: See the live view and recorded events of multiple DiskStations
Mobile Support
Supported Platfrom: Android and iOS devices
Remote Live View: Yes
Remote Playback: Yes
Remote Snapshot: Yes
Accessory
VisualStation: VS80
License Pack: 1 License, 4 Licenses
Integration
Video Codec Support: MJPEG, MPEG-4, H.264
Audio Codec Support: PCM, AAC, AMR, G.711, G.726
Supported IP Camera Brands: 46 renowned brands such as Axis, Panasonic, Sony, Mobotix, Vivotek, ACTi, HikVision, IQinVision, and many more
Supported Open Standards: ONVIF™ 1.01 & 1.02, PSIA 1.1r1 compliant
Streamming Protocol: RTSP, HTTP
Support Video Server: Yes
Client PC Minimum Requirements
CPU: Intel® Pentium 4 CPU 2 GHz
Memory: 512 MB
Operation System: Windows® XP, Windows® Vista (32-bit) , Windows® 7, Mac OS®, Linux®(with limited features supported)
Browser Support: Internet Explorer 7.0 and onward, Firefox, Chrome, Safari 5.1 (32-bit)
Network Interface: 100 Mbps