The new FRITZ!OS 6.50 equips your FRITZ!Box with over 120 innovations and improvements, free of charge. The FRITZ!Box 7490 and other models have already received the update. Please find an overview at the bottom of the page.
The new FRITZ!Box user interface design
The new user interface can be reached at "fritz.box" in the web browser, featuring a fresh, airy look optimized for smartphone, tablet and computer. Its responsive design lets it adapt flexibly to every screen size. This means all information can be displayed in full even on mobile devices.
The new overview with central updating function
The new FRITZ!OS creates transparency. The central home network overview shows you all connected devices, from smartphones, to wireless repeaters, to FRITZ!Fon handsets.
The special highlight: At a single glance you can see whether your connected FRITZ! products are equipped with the latest software. If an update is available, it can be started directly from this screen.
Cleaning up at the push of a button
FRITZ!OS 6.50 makes cleaning up a breeze. A click of a button is all it takes to remove all inactive devices from the display. Afterward the refreshed home network overview will show only your current devices.
Precise analysis of all devices in the wireless LAN
FRITZ!OS 6.50 permits even more precise analysis of the wireless environment, This display shows each device in the home network, along with its connection quality in the wireless LAN. This way you know immediately whether your new smartphone is able to surf the web at optimum speeds.
Who's interfering?
Who else besides your FRITZ!Box is using the wireless network in your neighborhood? FRITZ!OS 6.50 identifies radio channels experiencing strong use and switches to other ranges. The lower the loading of the radio channel, the better the potential data throughput there.
Cafés or doctor's offices can easily offer their visitors an independent wireless guest access that is securely isolated from your own network.
One ticket to surf, please!
The parental controls offer new possibilities. In addition to the familiar surfing times, which you agreed on with your children and set in your filters, now you can grant additional surfing time on the spur of the moment. The Access Profiles area includes a list of ticket codes, each of which can be redeemed for 45 minutes of extra online time. Simply print them and hand them out.
Redeeming a surfing ticket made easy
It is simple to redeem any ticket at (fritz.box/surf.lua). There the recipient of the ticket also gets information about how much surfing time is left and the restrictions defined for this user.
Three brand new start screens for FRITZ!Fon
Now you can select among five different start screens for your FRITZ!Fon. This way you can decide what's displayed first — for instance, the answering machine with all important details. Or you can decide to keep track of the FRITZ!Box, viewing information about its connection status and wireless LAN used.
To make sure that all of the information is easy to read, simply adjust the font size to your needs.
Use the FRITZ!Fon to see who's at the door and let them in
Connect the FRITZ!Box with a door intercom system including a picture display. Then the FRITZ!Fon will ring whenever the doorbell does. You can also see on the display who is at the door.
And if the door intercom supports this function, you can even buzz visitors in using the FRITZ!Fon.
Different answering machine announcements at different times
You always wanted the answering machine announcement to change at different times – for instance during and after business hours? With FRITZ!OS 6.you can simply switch between two announcements depending on the time – one with a recording option and one without. Tailoring your message to callers is a simple way to offer even more service.
Lower your stress levels by keeping unwanted callers from leaving voice mail. And from now on you can set up complete telephone books as a blacklist, so you can enjoy some peace and quiet.
FRITZ!OS 6.50 makes your heating smart
In combination with the Eurotronic Comet DECT radiator thermostat, it is easy to regulate the temperature at home to save heating costs. In the user interface, set the times when you are not at home. Be it for your daily work schedule or when you go on vacation – save energy by heating less when you're away. And when you come home, your home awaits you with pleasant temperatures.
The thermostat control is also smart enough to detect when you open the window. It immediately closes the valve for a previously specified period to save additional heating costs.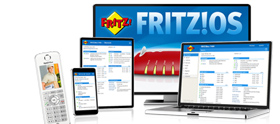 Control heating from on the go
You're coming home an hour earlier than planned? No problem! With the MyFRITZ!App 2 Beta (for Android) it is easy to access the presettings from on the go to switch the heating off.
What's more, a push service e-mail notifies you about important events like a low battery in the radiator thermostat.
Extra security
DECT connections are even more secure with FRITZ!OS 6.50. Encryption is used even to establish the connection. And during an existing DECT connection the key is changed repeatedly.
E-mail dispatch frequently takes place via the insecure port 25. Enable the e-mail filter via port 25 in order to block uncontrolled sending of e-mail messages (for instance, by malware.
In addition you receive many current improved details to general product security.
How to get FRITZ!OS 6.50
Open the user interface of the FRITZ!Box. Enter "fritz.box" in the web browser. If necessary, log in with your user name and password.
Click "Wizards".
Start the "Update" or "Update Firmware" Wizard.
By the way, with the automatic update function you're always up to date.
The FRITZ!Box models 7490, 7430, 7390, 7360, 7272, 6840 LTE, 6820 LTE, 5490, 4020, 3490, 3390, 3370 and 3272 already received the update. More models will follow shortly. The update will be released by the cable providers for FRITZ!Box Cable models.