You bought a USB printer and connected to a single PC? Now you are wondering, how could you share it with others and benefit from all the new interesting Internet based printing features? Wonder no more, SCALEWIRELESS has a solution for this.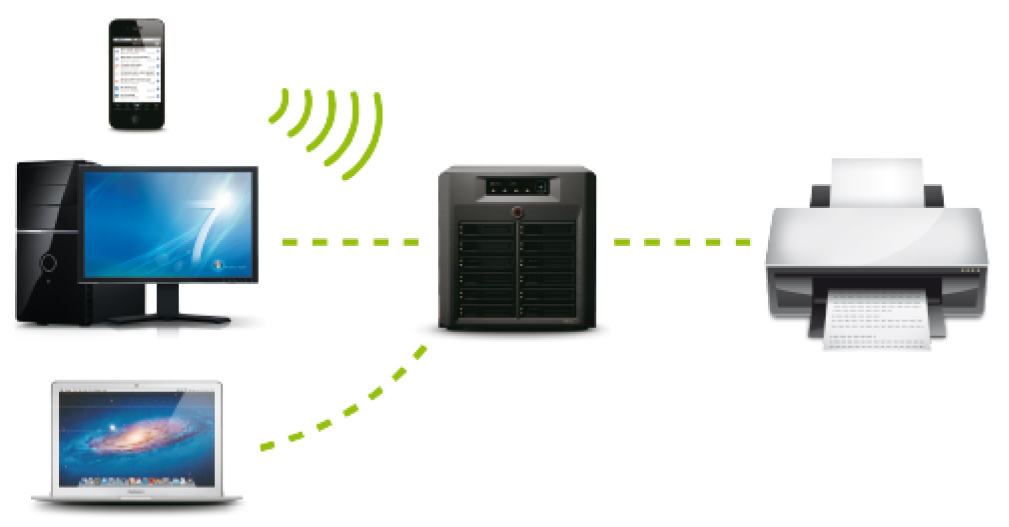 Synology DiskStation offers a complete print server solution wether you are indoors or on-the-go. Every Synology DiskStation is a standalone multifuncion and AirPrint printer server. So share these features with everyone within the network. Even better, it also supports Google Cloud Print, so you can print anything from you Google account remotely.

Wireless Printing from iOS Devices
For those with iOS devices, you will be able to print photos, email, web pages, and documents wirelessly directly from your handheld. By connecting an AirPrint-enabled printer to your DiskStation, you are all set as long as all the devices are within the same network. Just plug-and-play and the AirPrint server is ready to use. You can print from your bedroom, the living, or just about anywhere. It's not necessary to purchase the latest printer model on the market; the Synology DiskStation enables existing printers to become AirPrint compatible. Click on the link for the full list of AirPrint-compatible printers.


Google Cloud Print Anywhere
Google Cloud Print lets you print files, emails, and other documents from mobile phones remotely. Simply connect your printer onto DiskStation and enter your Google account information and you are ready to print out the documents, nearby or remotely, from Google applications on any device. The best part about it is that there is no driver installation required. So stop worrying about the compatibility issue between printer driver and the client device. As long as the printer is on Synology's compatibility list, you will be able to print and share the resource from Google Cloud Print-enabled apps. The print service can also be shared with anyone using a Google Account.