SCALEWIRELESS partner LANCOM Systems present their new outdoor access point OAP-382. It is the right choice for anybody taking high-speed 802.11n wireless LAN to outdoor areas.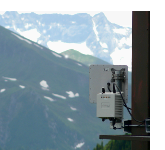 Its two radio modules make this access point suitable for a wide range of applications: For example, it can operate as a relay station in a link to a backbone while simultaneously providing Internet access for WLAN clients. With its water-jet resistant IP66 housing, integrated heating and cooling, and the sturdy fittings for wall and pole-mounting, the device can be operated wherever the highest standards for stability and robustness apply – be it in the mountains or from rooftop to rooftop in the city. The LANCOM OAP-382 can be easily and economically mounted up to 100m from the nearest power supply thanks to Power over Ethernet.
Dual-radio 802.11n outdoor access point with fiber-optic connector for maximum performance
• Two integrated 300 Mbps wireless modules for simultaneous operations with IEEE 802.11a/b/g/n
• Versatility from fiber-optic connector and Gigabit Ethernet
• Power over Ethernet for easy installation away from power supplies
• Optional external 48V power supply
• Professional management functions, IEEE 802.11i/WPA2, Multi-SSID and VLAN
• Robust IP66 protective housing
• Integrated heating and cooling ensures reliability even at extreme temperatures (-30°C to +65°C)
More flexibility
The LANCOM OAP-382 can be networked via Ethernet or fiber optics. The externally accessible SFP slot provides a variety of options for implementing the fiber-optic connection. The device also offers versatility in the choice of power supply: Depending on the local situation, the LANCOM 382-OAP can be powered either by the supplied Gigabit High Power PoE injector or via an optionally available 48V cable.
More security
LANCOM ensures the highest security standards as it supports a comprehensive range of encryption and authentication mechanisms, including 802.11i, 802.1x, and WPA2. With the aid of Multi-SSID and protocol filters, up to 8 different user groups can each be assigned with different levels of security. VLAN technology, matured quality-of-service functions and bandwidth limitation enable the reliable transmission of video and multimedia data.
More management
A management system is vital outdoors where conditions are difficult, for example when it is hard to see the LEDs on an access point mounted on a tall mast. The free LCMS LANCOM Management System allows the monitoring of all device functions and provides an overview of the entire network. For example, it is possible to check whether the access points are transmitting and, if so, on which channels, how much data each one is sending, which clients are logged in and where, what encryption method is active, and a whole lot more. The LANCOM Management System also helps you to optimize performance over wireless bridges. Additionally, the LANCOM OAP-382 supports TACACS+. Using the AAA protocol ("authentication, authorization, accounting") it is possible to track all activities relating to the configuration of the access point.
For more infos: http://www.lancom.eu/products/wireless-lan/outdoor-access-points/lancom-oap-382