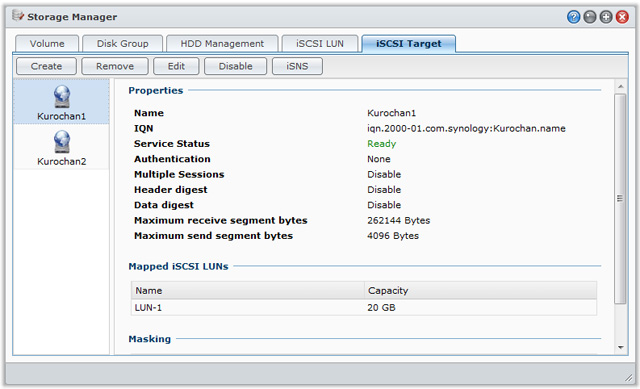 To meet the standard of a powerful storage server, Synology DiskStation is dedicated to providing the optimal solutions for clients in sharing files with different structures and sizes.
While SAN (Storage Access Network) environment can greatly improve file sharing efficiency and performance, traditional SAN solution requires expensive setup of fiber-topic equipments and advanced expertise in order to manage the intricate system.
In comparison, an alternative SAN structure, or the so-called "iSCSI" (Internet Small Computer System Interface), offers a different approach that requires less capital investment and resources and can still reach a respectably high throughput in performance.
iSCSI is an Internet protocol for linking data storage facilities. By carrying SCSI commands over IP networks, iSCSI can facilitate data transfers over LAN, WAN, or the Internet. It also supports the storage and retrieval of location-independent data.
Through iSCSI, the space on storage server will be regarded as local disks by client's operation system. But in reality, all data transferred to the disk are actually transferred over network to the storage server.