Enterprise WLAN
Wireless Networking offers new options for businesses – freedom from cables gives flexibility and much needed mobility in the today offices where people want to have Internet access with the laptops and other mobile devices where ever needed. Outside the office WLAN reduces costs and speeds up business processes in many areas where quick flow of information is essential for business – transportation, logistics; public safety, etc.
Business environments have higher demands for security and stability. Enterprice WLAN solution focuses heavily in offering maximum security, cost-effective scalability, low maintenance costs and best possible stability.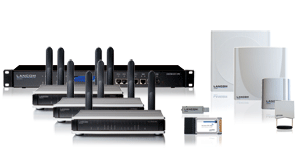 Security
Enterprise WLAN solutions provide maximum security and offer cost-effective management for user accounts. Unlikely in home wireless solution, where all connected computers share the same password, enterprise WLAN solution offers chance to use user-based authentication. With 802.1x/EAP support it is easy to allow or deny access to network to a single user at a time. That saves a lot of time and money – if a person is leaving the company or there has been security breach, it is no longer needed to change WLAN password at every computer at the company.
Cost-effective scalability
In business environment there are often more than one WLAN access point used and that requires cost-effective management for all of them. Imagine that your IT administrator would have to manually configure 5, 10 or 50 WLAN access points. While this is possible it takes up a lot of time and money.
LANCOM based enterprise WLAN solution offers both software and hardware tools to automatically monitor and configure all connected WLAN devices in your network. WLAN controllers offer automatic configuration and management of your wireless network including script and firmware deployment and RF optimization, Efficient administration of guest access accounts and multi service WLANs and 24/7 monitoring of security and QoS policies in the WLAN.
LANCOM advantages:
Scalable installations that grow with you: From just a few access points to Controller-based wireless networks.
Guest accounts & separation of user groups by Multi-SSID and VLAN
Installation even away from the power supply thanks to Power over Ethernet
Maximum security from IEEE 802.11i and 802.1x/EAP, LEPS and AES encryption
WLAN installations benefit from simple extension and "zero-touch" configuration with WLAN Controllers—even remotely!
Comprehensive portfolio of access points that are suitable for medical environments
Free WLAN management tools with radio-field surveillance